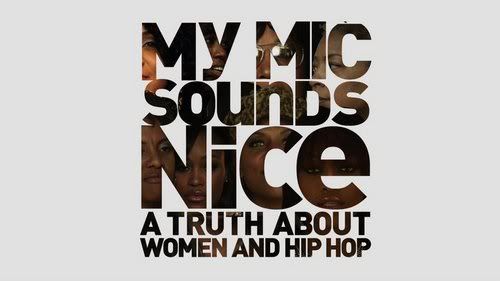 Last night, I was winding down my Sunday when I'd affixed my channel to BET - which I rarely do nowadays - and caught the beginning of their new documentary
My Mic Sounds Nice: A Truth About Women and Hip-Hop.
Definitely not one of those "woe is me/respectful females wouldn't do this" documentaries about video vixens, this program focuses on the female wordsmiths in the game - their semi-concurrent rise with hip-hop, their staying power at the end of the century, and then the current decline of mainstream female rappers with the turn of the new millenium. I figured I'd bless BET with the ratings and take a peek. If you haven't seen it, it's definitely an eye-opener.
The program predictably takes you through the timeline of women in hip-hop, from The Sequence to Roxanne Shante, from The Funky Four Plus One to Queen Latifah, but the part that spoke to me the most (since I'm almost 25) was the rise and wide acceptance of females in rap. I grew up on the Lil Kim's, Missy's, DaBrat's, and Foxy Brown's, so I basically took their presence for granted. I never really took the time to be gender-specific, never thinking about that extra chip on their shoulder when I was first exploring rap - if their music was good, it was good: if you think about it, they had better production than a lot of the men out there! Hell, I bought a couple Missy albums, a TLC album and a Lil Kim album in my day - well, my mother bought them but you know what I mean - and used a LOT of male rappers' CD's as coasters (but you can't tell me that Afroman album wasn't a classic!). A salient point I took away was during that time, the widespread rise of female rappers came along with the commercialization of hip-hop in the mid-to-late 90's as it was going pop, an "a-ha!" moment that you have while watching it but never thought about while you were growing up and seeing these figures on screen. Along with the rise in numbers came the rise of sexuality within these female rappers, something that the Queen Latifah's and MC Lyte's never had to rely on, but as hip-hop kept grabbing more of America's ear, they had to do something to differentiate themselves from the burgeoning crowd. Although I was a pre-adolescent with raging hormones, I still felt weird saying I was a fan of Lil Kim while she had her breasts out on full display like a fruit stand at your neighborhood farmer's market. Thank God I had Missy and "I Can't Stand The Rain" to fall back on - there was enough diversity in the female game for everyone at the time, at least in my eyes.
A good example of how the female side of rap was in the stages of being reset was with the emergence of Lauryn Hill and her classic
Miseducation
album. I always thought it was a good album, but in this particular context, it began to shape the path of women in hip-hop and where they could go. She wasn't hyper-sexualized or spitting gutter lyrics, and that accessibility catapulted her to the top of the heap, as we all know. She represented the contemporary woman in a way that was brutally honest, sensitive, and sexy all at once: if you didn't feel this album, you must be dead or an alien. However, there was a statement that I'll always remember from this documentary, and I forget who said it, but the essence of it was if one person steps away from hip-hop and certain messages and feelings are missing, we should learn how to deal and find solutions to this problem instead of trying to bring back that one person who we hope can restore that balance. The creative void she left after
Miseducation
was felt tenfold throughout hip-hop and moreso in the female community - yes, female rappers still existed and were still coming out in droves, but I finally understood the impact of that LP and its place in the music landscape. No one ever captured that soul like Lauryn did.
Click here for Part 2 of this article.